Wat Suan Mokkh - main monastery
Wat Suan Mokkh is a forest mon­as­tery where about 40 monks live in little huts in the forest. From July to September, during the tra­di­tion­al three month rain retreat, the number of monks may increase to more than 70. Another part of the mon­as­tery grounds is re­served for nuns and lay women.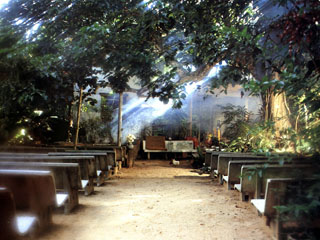 At one time, before 1996, a small com­mu­ni­ty of for­eign­ers lived at Wat Suan Mokkh, known world­wide as a centre for med­i­ta­tion. Today only oc­ca­sion­ally for­eign­ers will stay longer than two or three days before or after the retreat at the as­so­ci­ated In­ter­na­tion­al Dharma Her­mit­age about 1.5km to the east of the main mon­as­tery.

This hermitage attracts more than 1,000 for­eign­ers a year to Wat Suan Mokkh, which some­times appears as Wat Suan Mok in some pub­li­ca­tions and web­sites that try to cap­ture the pro­nun­ciation. The visitors attend 10-day silent retreats with in­struc­tion in med­ita­tion and Dharma. The in­struc­tions at the In­ter­na­tion­al Dharma Her­mit­age are given in English.

There are a number of other buildings at Wat Suan Mokkh, including the Spiritual Theatre and the assembly hall in the form of a big ship - a metaphor for the Dharma - with a foreign library and the sculpture work­shop. The foreign library has a variety of books on med­i­ta­tion, Buddhism and related topics in many languages including English, German, French and Japanese.